Are you thinking about starting a career in IT but have no idea where to start?
At TDSOFT, everyone has a different story, and they are all equally valuable and inspiring. While there is no single path you must follow to succeed in IT, it is worth exploring all the possible options.
What would our employees advise those at the beginning of their careers?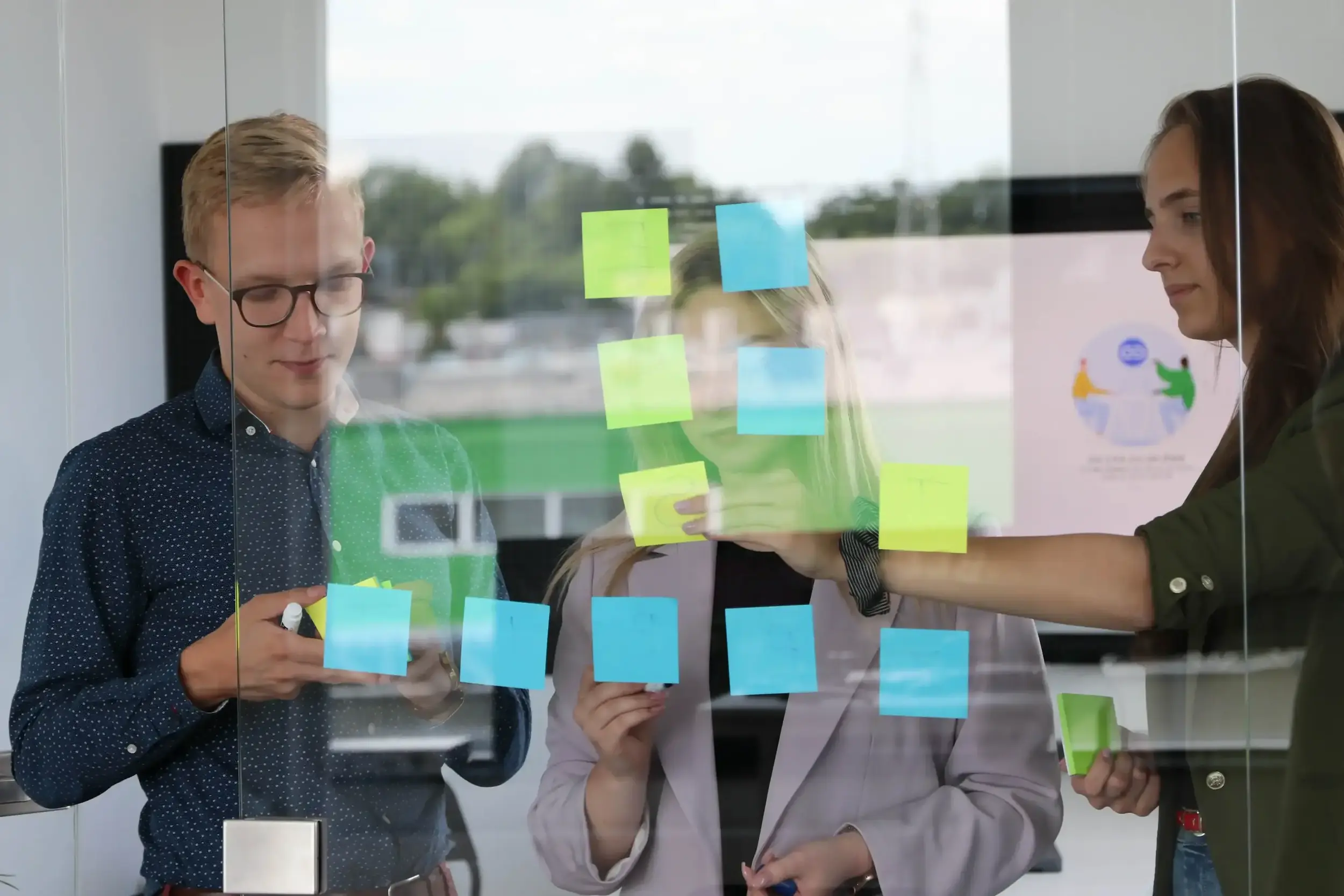 Hi, I'm Kaja – Marketing Executive, and I want to introduce our new series – TDpath, in which I will ask my colleagues about their first work experience, education, and widely understood career..
---
Julia started her journey in Sales at TDSOFT in 2021 and in less than one year became our Head of Sales!
Are you curious how she's balancing her professional and academic achievements at the same time?
Or perhaps you are also interested in working in this field? Check our internship offer and start to develop your career while studying too!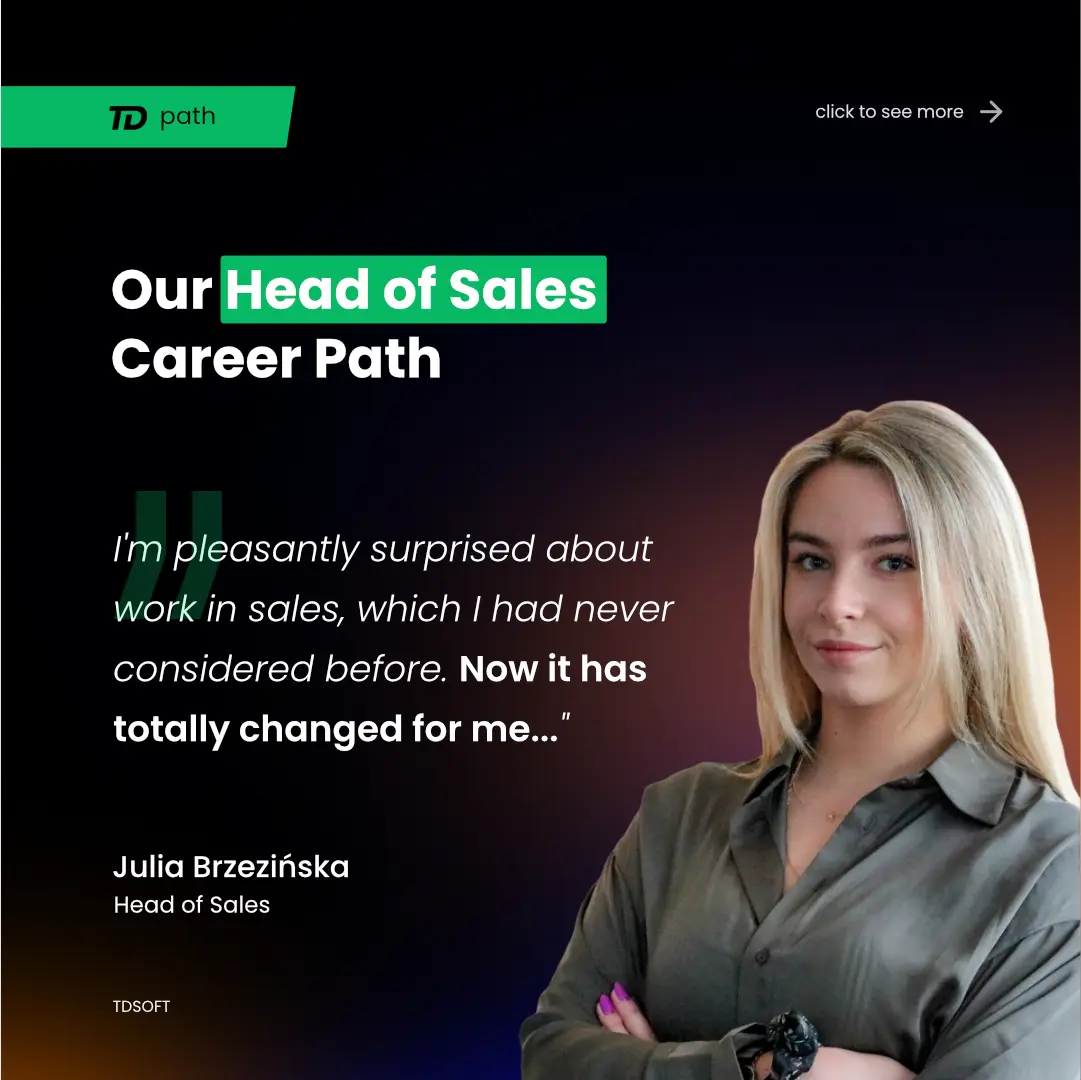 What was your path to working in sales?
After middle school, high school, and working as a waitress throughout my teenage years in Ireland, I was always very fascinated by the thought of one day getting a 9-7 office job in accounting. I saw my future in numbers, so I pursued this path and got a bachelor's degree in management and finance.
Just a month before I started university in Poland, a friend of mine who worked in a call centre suggested I should apply there since I'm fluent in English and have previous experience in communication with customers. I stayed in that position during the first year of my studies before I knew it's time for a change. There were a few open positions in the finance department of the company, and I was confident I had the knowledge needed to pass the interview. It worked out, and I got a job as a Business Analyst for IT contracts. I was thrilled to start putting my skills into practice! During this time, I gained a lot of experience in various aspects of finance, accounting, analytics, and working with engineers. I also furthered my experience with clients, which I have always really enjoyed.
However, I am a person for whom personal development is super important. After 4 years in the company and job I had always thought of being my dream – I had realised that is not the case. This was also during the difficult times of covid-19 pandemic. I started considering other careers. I applied for various positions related to my interests, from project manager to customer service manager to other positions in finance in startups.
I was trying to find my path, so after my bachelor's degree, I didn't start my master's studies and instead took a year off. I stopped for a while to think about what I wanted to do in life. At some point, I saw on my old scientific club's Facebook page an offer for the position of an Account manager at TDSOFT. I had an internal feeling that start ups would be a better fit and environment for me to better myself. And so, a year ago, I started working at TDSOFT. I think I have managed to learn a lot during this time. This, in my opinion, is the biggest benefit of working in smaller teams and startups. They usually give us more room to develop in different areas, and this allows us to find the path that interests us the most. It gives you more comfort and opens your mind to new ideas.
I'm pleasantly surprised about work in sales, which I had never considered before because I was fixated on working in numbers and accounting. Now it has totally changed for me, and I think it's a cool direction that supports general personal development. This is not the end of my career plan – just another chapter of it.
What do you expect from the person who would start working with you?
We are looking for students or people who have just finished their studies, so I don't expect a lot of experience but rather a willingness to take new initiatives and challenges and not being afraid of innovation and development. In addition, an interest in IT is an additional advantage, because in my opinion, trying to sell something you don't believe in and aren't interested in – simply won't bring good results.
Many people regret going to college. What's your opinion? Do you think your studies benefited you in terms of what you are doing now?
Yes,my BA in Management and Finance gave me knowledge about different aspects of business, marketing, and finance, from soft skills to analytical skills. It was the perfect mix of knowledge that I needed to push me further and jump-start my career. In addition, while I started working full-time during my studies – I could immediately put the theoretical knowledge into practice, and that was very beneficial for me. I felt that most things I learned were useful, and it was also easier to pass some subjects; even if I didn't remember the exact definition of something, I could give an interesting example from experience.I highly recommend it, as long as you think you can balance it without overworking yourself. Starting off part-time is a great opportunity to gain your first experience and graduate with some practical knowledge. But back to your question, after a year off, I decided to go back and get my master's degree in Management with specialisation in Business Development Management.
Let's go back to the present. What are your current responsibilities?
As Head of Sales, my main tasks include ensuring the needs of our clients are met. I nurture these contacts and maintain a positive relationship between both parties for future business ventures. The sales part of the job includes looking for new opportunities, projects and partnerships. I search for clients on various websites or through networking, whether on LinkedIn or at events. This is the main part of what I do. I am also responsible for negotiating, monitoring, project management, and providing communication support for team members. This communication is connected with working closely with both the marketing team, developers, and designers.
And which of these elements is your favourite?
I really enjoy working with people, so all those jobs that I chose for myself in the past included this element. But in addition, I have a traveller's soul, which is why I live and study abroad, and as a result, travelling and meeting people from all around the world gives me a lot of contentment. At the same time, I think it is much more valuable for the company itself later on and more beneficial in terms of projects.
What would you recommend to a person who wants to do something similar to you but is at the beginning of their career?
I believe that even if you have an idea of what you want to do in life, it doesn't mean that in 5 years, this view won't completely change or the job market won't force a new plan on you. In my opinion it's a smarter idea to choose more general studies at first to gain perspective on various fields.
Of course, there are professions you need a certain degree for that may take many years to complete, but it's not the case for many tech and startup jobs. Here – your innovative mindset, willingness to create value in the company and the experience is what will set you apart from others on the same job market.
In addition, taking part in various projects, student scientific clubs and looking for that path of yours, trying new things, stepping out of your comfort zone and reaching for knowledge from different places. You never know when something exciting might cross your path and change your perspective by 180 degrees.
Join Julia's team now and get your first work experience!
---
What might a career as a Web developer look like? Is university necessary? And what is the fastest and best way to learn the profession?
Kamil is a perfect example that practice is the key to success.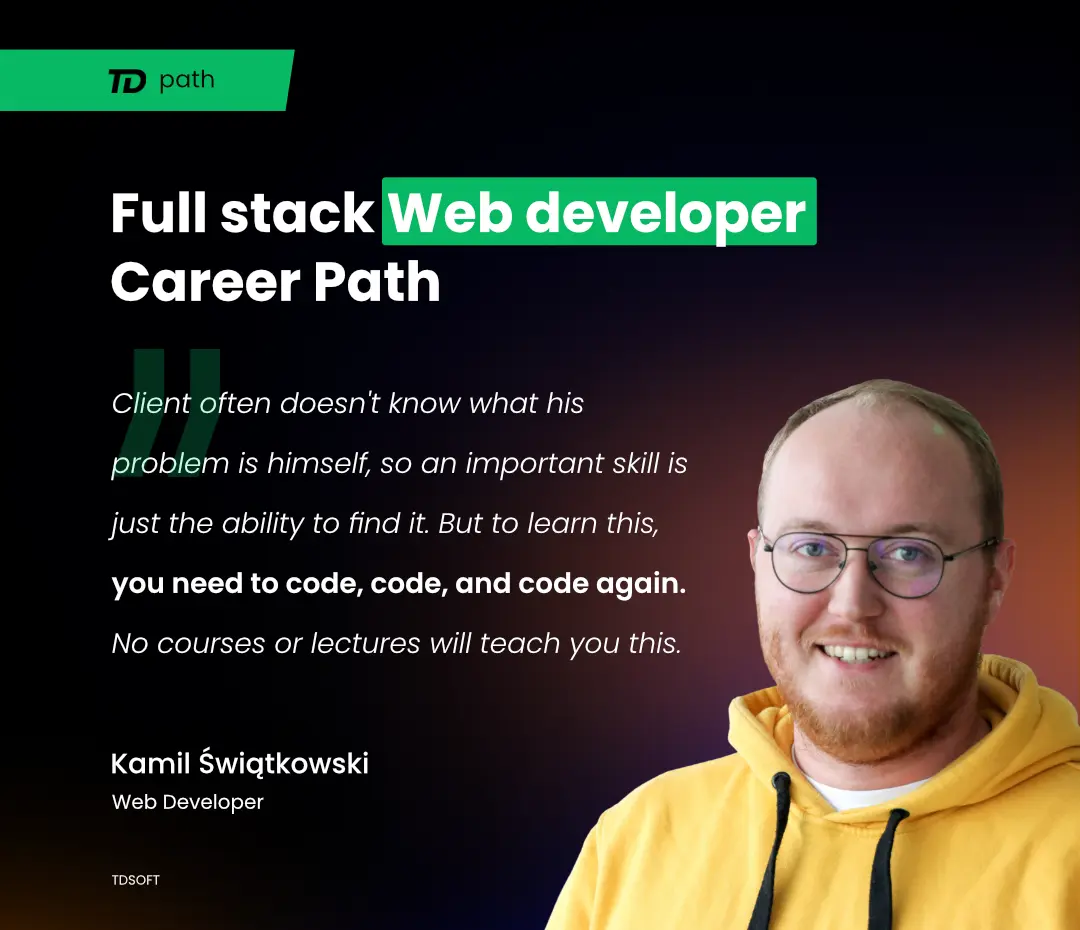 When did the idea to work as a programmer come to you?
I have always been good in technical subjects. In middle school, I used to help my friends with their websites during vocational subjects. That's why the idea came to me to choose a technical school instead of a high school, although at that time, I was thinking about studying economics. When, sometime in the middle of technical school, we began to take classes in graphics, databases, and programming, it turned out that I was most drawn in this direction. Therefore, even before the end of my senior year, I started looking for a summer internship related to this. I wanted to work a little, learn a little, and start my studies in October.
What was your first professional programming experience like?
In the beginning, I learned a lot and watched some courses, but after just 2 or 3 weeks, employers saw that I was doing quite well, and I got my first client project – I still remember it to this day 🙂 That's when I started working full-time.
And what happened next? Did you start your studies as you planned?
I didn't expect to find a full-time job so quickly. Therefore, in order to continue it, I went to study computer science part-time, but it lasted only four months, I already had some skills and a permanent job, so I felt like wasting my time and money. In addition, I wasn't pleased with the program, and some more exciting subjects were not supposed to start until the 4th semester. I didn't want to wait.
What do you think about this decision now? Did you ever regret it?
I think that in college you can learn at most to work in a group, but not necessarily a profession. There you have a problem invented by the professors (who often don't even code professionally, because they are the professors), and you only learn how to solve it. Later at work, it's not so easy, the client often doesn't know what his problem is himself, so an important skill is just the ability to find it. But to learn this, you need to code, code, and code again. No courses or lectures will teach you this.
So your education consisted of a technical school and then only practice?
Exactly, courses may be good at the beginning, when you want to familiarize yourself with a subject, but they have a disadvantage if you do not know something, you will wait 5 minutes and get the answer. Here at work, you don't have something like that. No one will do it for you. You have to sit down and think for yourself. I think the best form of learning is coding, not watching courses.
How did you start working at TDSOFT?
After 2.5 years working at the same place, I felt I needed a change. The agency I was working for was small, and my only involved creating small, local websites. There wasn't much to show off, and I felt I was no longer growing.
I started looking through job ads, and that's how I ended up here at TDSOFT, where there is definitely more going on. The projects are sometimes massive, so they require cooperation, the clients are often foreign, you have to speak English, it's more challenging and thus it's an opportunity for more development, I like it a lot.
What would you advise a person who wants to work in the future in the same position as you?
Coding, right from the beginning, even try to copy existing sites, their appearance, mechanics, not to look only at those courses, because at courses you get all the solutions, and at work it is not always so easy.
What do you think about soft skills in the work of a developer?
In my case, the longer I work, the more I need them, on a daily basis I have constant contact with clients. And these negotiations, explaining what and how are sometimes not easy. You have to be able to think quickly, present the strengths and weaknesses of a solution, take care of the client's needs, while keeping in mind that we will be the ones writing the code later, so I immediately have 100 thoughts in my head about what can go wrong.
Do you think there are any qualities that a developer should have?
Looking for solutions because you can't constantly ask your co-workers for answers to some trivial problems. It is an essential skill if you are able to run a project by yourself.
Good communication – when something isn't working, don't sit and look for it for three days. You just look for 30 minutes or an hour, and ask someone if you can't find a solution. At some point you need to be able to admit your mistake and move on.
And also, accuracy, when you have a design, and there is a particular color specified, then it is crucial that you use exactly the same color because someone spent time designing it and had some reason to make it look like this.
Thanks for all the advice Kamil!
---
This is Gregory, who has been with us at TDSOFT for over a year now, and before that, he was planning a career in food services. What did his career change look like?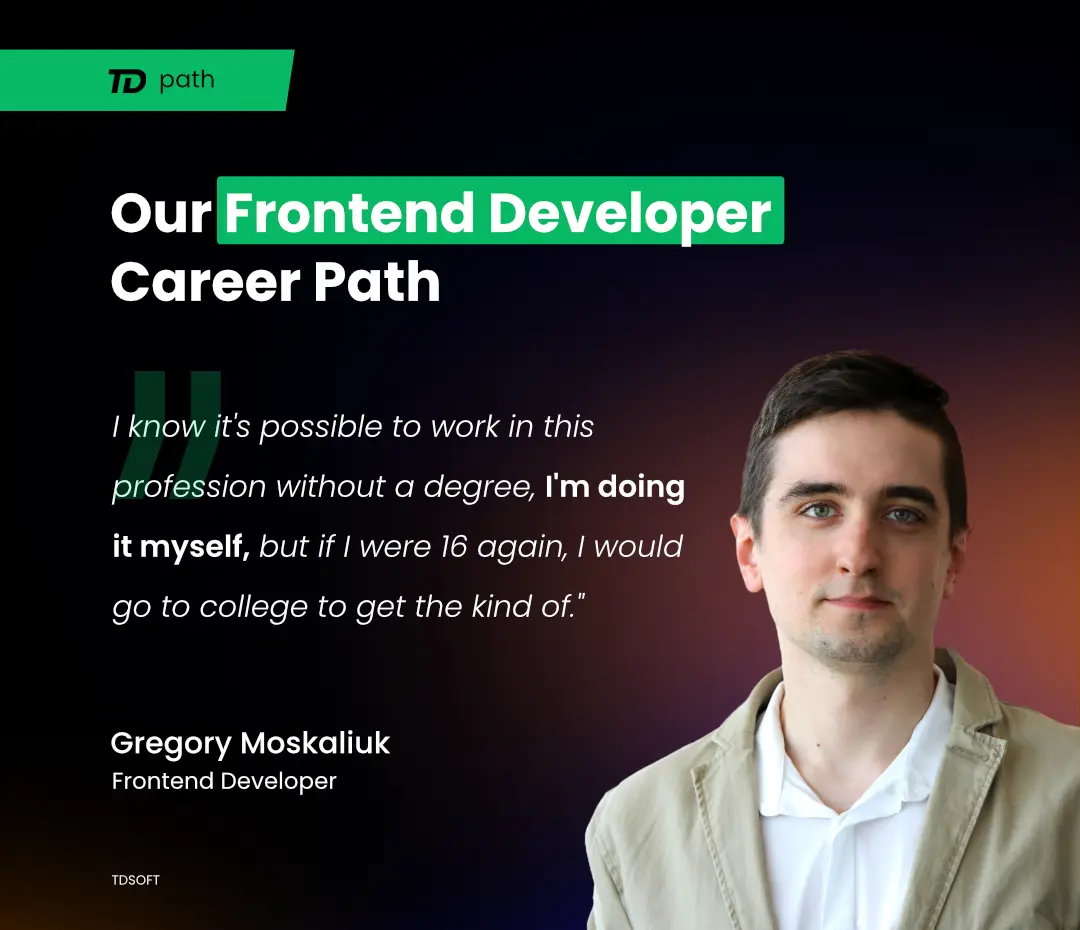 When did you decide to become a programmer?
Two years ago, I wanted to change my line of work. I had previously worked in catering, but it did not satisfy me. I was looking for a profession in which I could constantly develop. After thinking about it, watching videos, and reading articles, I decided that programming was the right choice.
What's next? How did you learn programming?
I started looking for a course, the first one I bought was costly, but the quality was poor. I didn't know that at the time because I had no experience, but now I see it. I found an ad that said it would be easy to find a job after this course, which was exactly what I wanted, so I gave it a try. However, I found the process quite frustrating, after five months of the course, I was so resigned that I dropped out for a while. In the meantime, after watching some materials, I realized I wanted to do frontend. At that time, there were courses on Udemy and FrontendMasters. Meanwhile, I was looking for development opportunities and valuable information to learn.
What was your first job in this profession like?
After a year of learning about frontend, I started looking for an internship. I was looking for any kind of training so that I could get my first experience. I sent CVs wherever I could, to places all over Poland. I did not get a response for a long time. I got my first internship as a programmer at TDSOFT. After a few months, I had an interview, thanks to which I managed to get a traineeship and then a job.
What would you recommend to people who want to work in this position as you do?
I know it's possible to work in this profession without a degree, I'm doing it myself, but if I were 16 again, I would go to college to get the kind of information I'm still lacking. But the most important thing I've also learned from my history is to gain skills in practice. A milestone in my development was when I joined TDSOFT, I started talking to the guys in the company, and they advised me on what to learn, what to master, and which books to read. Being able to ask questions is extremely helpful. It is much better to sign up for internships, even free ones, instead of studying at home, where you don't even know what mistakes you are making and how you can fix them.
I would also recommend being patient with the learning process, especially if you are starting from scratch. It is definitely not easy at first, especially if, as in my case, you are simultaneously working full-time. You need to slowly but steadily expand your knowledge and at the right moment sign up for an internship otherwise, you won't develop. I think it is impossible to learn everything at home.
Thank you, Gregory, for sharing your story. Are there any among you who have completely changed their career path?
---
Today I would like to introduce you to Adam – a Junior Frontend Developer for whom working at TDsoft is the first professional experience of his career as a programmer.
Did you know that it is possible to learn programming entirely for free?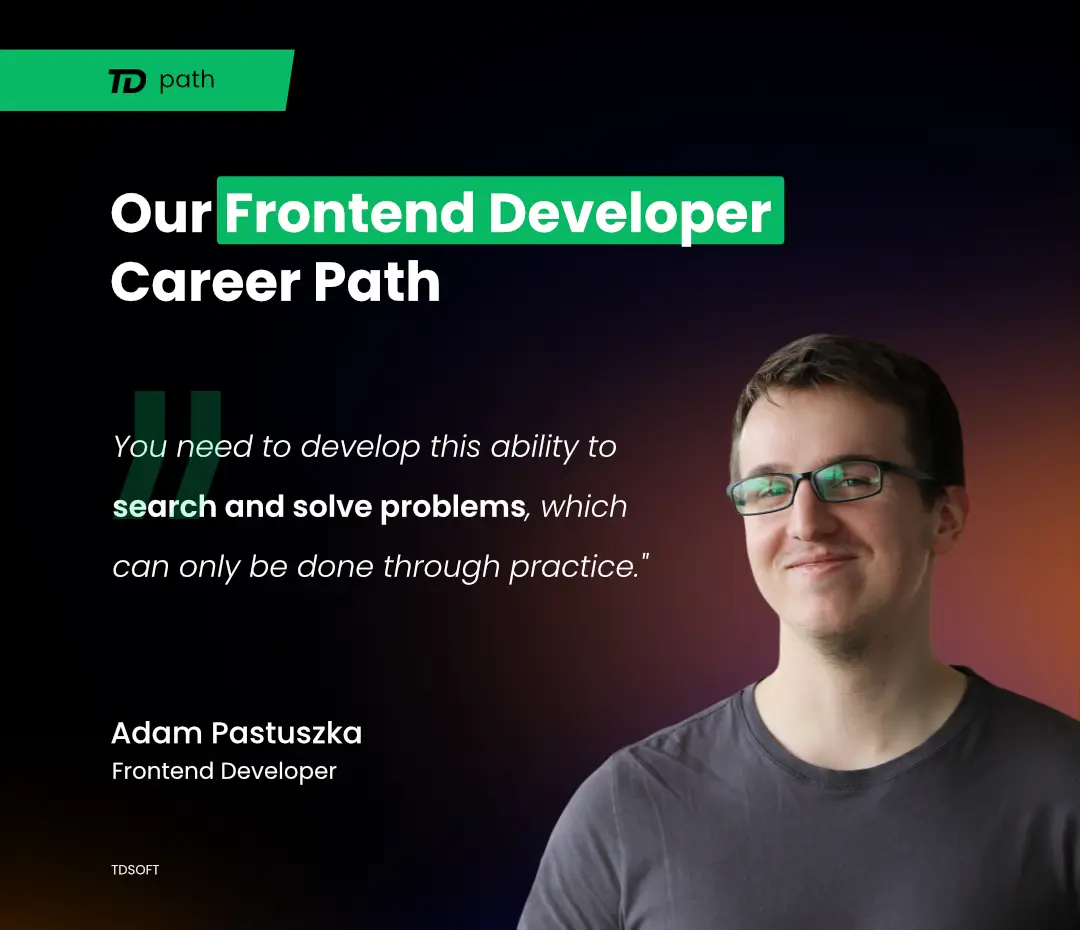 Have you always known what you want to do?
I decided fairly early on that programming would be a part of my life. While still studying chemistry, I started exploring programming languages, and as a hobby, I had fun making all sorts of robots, which I also programmed. But my studies lasted five years, so I think that's quite a long period to try different things. At the end of my studies, I thought about switching to programming as my main job, and as I was working in a lab right after graduation, I decided to change my career path over time and studied every day to get there.
What was your education like as a programmer?
At first, I watched some courses on YouTube, everything for free, just to get an understanding of how it looks like, tutorials, guides, then I started looking for documentation and doing my own projects. I heard that the best way to develop is to encounter problems and solve them. This is an essential aspect of programming, you need to know how to find information, and to do this, you need to start doing your own projects to encounter these problems and learn how to look for information. You need to develop this ability to search and solve problems, which can only be done through practice.
My education when it comes to programming cost exactly 0 PLN. The Internet is so vast and programmers are famous for being very open when it comes to information. There are a lot of open tools and I think you don't have to spend any money at all to learn programming, especially in the area I trained in.
How do you assess your studies in retrospect? A valuable experience or a waste of time?
I don't think this time was wasted because science subjects like chemistry, physics, and biology teach you how the world works. This is knowledge that is just good to have. But when it comes to what I'm doing now, chemistry is completely useless to me, if I had to choose again I wouldn't go to college at all,or I would just choose a course of studies related to computer science.
What was your first job as a programmer?
This is my first job in programming. I started with a trial period that lasted three months and ended yesterday, so I am now officially a TDSOFT employee;)
What advice would you give to someone who wants to work in the same position in the future?
People are often afraid to make mistakes. But as you make these mistakes, you see the consequences, and it's easier to understand why you do some things this way and others another way. I also found it hard to start creating certain applications because I was afraid I would do it wrong, which is a valuable lesson.
I also think that you don't have to program too much, to force yourself to learn for 6 hours a day. Of course, when I was learning, I had days when I had a flow, but there were also days when I just spent an hour. Don't force yourself because you can quickly burn yourself out. Especially if someone wants to change their career path and is combining it with another job, it's the fastest way to burn out. You can treat it like a workout, where you shouldn't take too many breaks, but doing it too often will also be harmful.
How do you assess your career change?
It was a great idea. Before, when I worked in the lab, I had fixed working hours and zero flexibility. Here, not only am I better off with what I'm doing now, but I feel I'm developing much more. I appreciate that I can go, to another city for a week, work remotely, and choose the type of contract that suits me. I'm delighted and feel that it will improve with time.
What do you think about the paid courses you took during your programming education? Were they valuable? Would you, like Adam, choose to learn on your own if you could return in time?
Thanks for telling us about your experience Adam!
---
The next person I had the pleasure of talking to was Krzysztof Smakowski – Business Development Manager.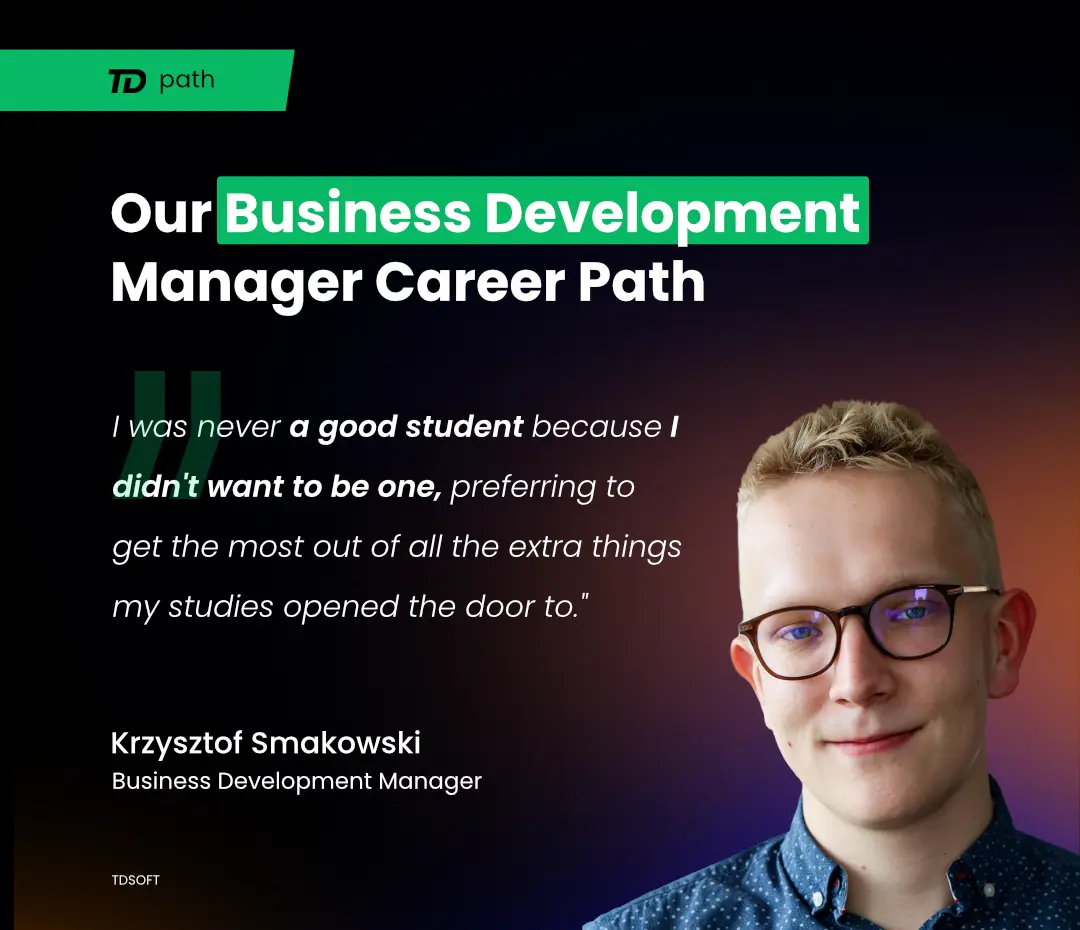 Have you always known where you want to work?
Not at all, I'm in the position I'm at right now because I was searching, I was proactive and open-minded. When you have this approach, things happen on their own, one event leads to the next and then the next, leading to great results in the end. For more than half of my studies, I was searching, and it certainly gave me a lot. I had no idea at the beginning what I wanted to do.
What did you study? How do you assess this experience from the perspective of your current job?
I hesitated between law and computer science, eventually choosing the latter and the music academy. I believe that university was a valuable stage in life, and I recommend it, but on the condition that you first decide what exactly you want to get out of it. As a student, you have many opportunities and can find the most valuable ones outside classes. I highly encourage you to take advantage of them, join study circles, attend workshops and lectures. I was never a good student because I didn't want to be one, preferring to get the most out of all the extra things my studies opened the door to.
What was your first work experience?
I worked continuously throughout my studies, so I had a chance to immediately test and verify in practice a lot of things I learned about, it was extremely useful. I worked as an office manager, did an internship in marketing and sales support. In addition, I worked as a programmer, which was fortunate, because that's when I discovered that this is entirely not for me, even though I studied computer science! Later on, I worked at the product development department of a large corporation and then at TDSOFT. I consider all these experiences to be precious. In each job I learned something different, I had the opportunity to verify the knowledge I acquired at university.
What would you recommend to people who want to work in a similar position to yours?
First of all, a healthy balance between studies and other things, it's important to remember that your value is not determined by the grades you get, and sometimes it's worth sacrificing better performance in exchange for gaining practical knowledge. Take advantage of all the opportunities you get to acquire it, even for free. Be sure to get involved in study circles, the student council, and create initiatives connected with these things, along with other people.
Krzysztof's experience and advice are very inspiring for us. Thank you for sharing it!
Are you interested in our job offers?
---
I would like to introduce you to Wojtek, who started his career with mountain climbing and studying English Philology and has now been working at TDSOFT as a Frontend Developer for a year.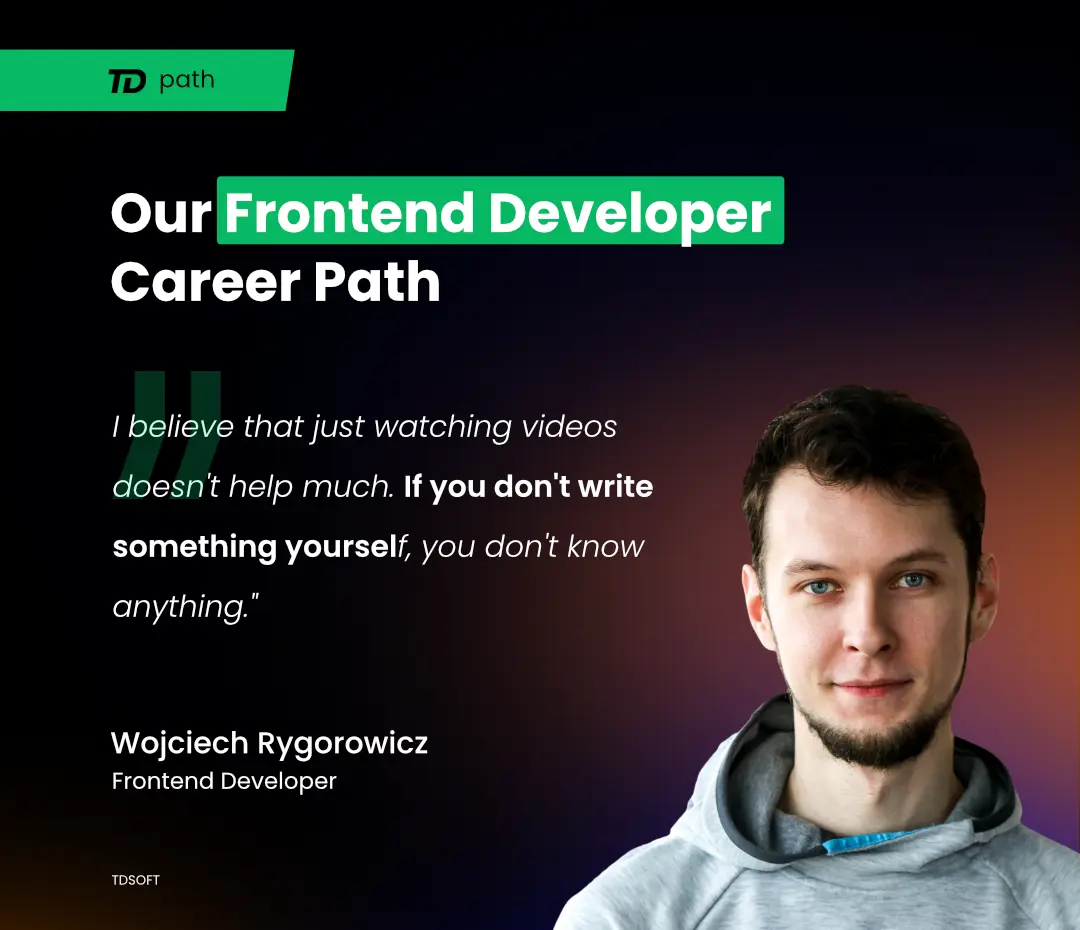 Did you know from the beginning that you wanted to work as a programmer?
Definitely not. My first idea was to make a living from mountain climbing, but I realized that only the top climbers could manage this, and I had to find an alternative. The other option was programming. I was interested in it since childhood, I wrote simple programs for games, but throughout my years of education, I treated it rather as a hobby and entertainment. It was not until sometime after graduation that I decided to start educating myself in this direction, having not planned it at all before.
What, then, did you study, and how do you look back on this stage in your life?
I studied English Philology. I know it may sound completely disconnected from what I'm doing now, but this course of studies had its advantages. All the programming courses I took later, and now at work the coding, documentation, contact with clients, absolutely everything is done in English. I do not have a language barrier, English in the work of a programmer is essential. Of course, I can't say that I found everything I did in college useful, there were plenty of things I don't even remember, and the language they taught was often too formal to use daily. Nevertheless, it was an ideal basis for further study and an excuse to surround myself with English and to feel more confident using it.
How did you go about learning programming?
I started with courses. Once I more or less figured out the basics, I started looking for the first simple assignments to practice using the knowledge I had gained, as courses alone are definitely not enough. In the meantime, I read many books, although they definitely cannot be the basis of learning. To keep up to date, you must buy new editions constantly. The next step was documentation, there was a whole bunch of it, even to this day, and I guess it will never end;)
As for learning with courses, I can recommend three websites that I regularly used and still use: Udemy, which I think everyone knows, Frontend Masters, and Codecademy – not a course but rather interactive lessons, which I highly recommend because I believe that just watching videos doesn't help much. If you don't write something yourself, you don't know anything.
What would you recommend to people who want to become Frontend Developers like you?
Write a lot of your code. Even if it will be poor quality, as long as it works then that is already the first success, because as I mentioned if you do not write something yourself then you don't know how to do it. As you start writing you will notice errors you have not heard of before. Coding is the key, do as much of it as possible. In the beginning, I wouldn't focus on the fact that the code has to be perfect, because it won't be, so I'd recommend quantity rather than quality. When a beginner comes to the company, it is definitely easier to teach them quality, as they already understand the logic and know how to solve problems. If you have an inner feeling that you know how to write something, it will be much easier for you, and during code review, someone will point out any errors you may have made. But if you don't know how to write it to make it work, then there will be no code review because it's not complete.
The other essential thing is a good command of English. If you know the language poorly and want to become a programmer then I would recommend just starting with learning English, or doing it as you learn to code, because without English you won't be able to do it.
And what can you suggest when it comes to getting your first job? How can someone stand out with their CV if they don't have much experience?
I would recommend preparing a portfolio. If you don't have any commercial experience, then your primary asset and the only ace up your sleeve is a good portfolio. This leads back to coding, which I've mentioned several times before, but it's essential. If you code a lot, have a lot of projects, then choose the best ones for your portfolio, the most original ones – this is crucial, don't show what everyone else does, because you won't stand out. A portfolio is proof of your skills and is of far greater value than just a list of competencies or courses you have completed.
Thanks for sharing your story, Wojtek!